Swan?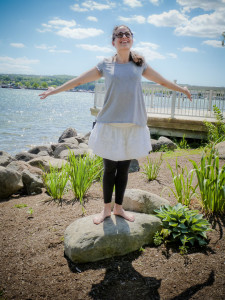 Starting with the classic "the Ugly Duckling", and drawing from her own experiences in an adoptive world, artist Kristin Ward brings to life the tale of one "strange duck" and her quest for belonging.  Using brightly colored hats pulled from a suitcase, Kristin conjures a heartwarming "supporting cast" as the main character – Essie – learns that beauty is more than what you are born with, and that to find where you belong, sometimes you have to look with your heart.
"Ward's quietly confident demeanor and infectious smile make for the perfect Essie, but she can deftly take on other skins with the switch of a hat.  She is like a storybook come to life with a very timely message about finding what we have in common with strangers and welcoming new friends with different feathers, or maybe no feathers at all."  – Cayleigh Boniger, Pittsburgh in the Round 4/3/17
Next Stop: Piccolo Spoleto Festival in Charleston, SC – June 1, 2017
Enjoy the show? Donate below to help take this project to more audiences!